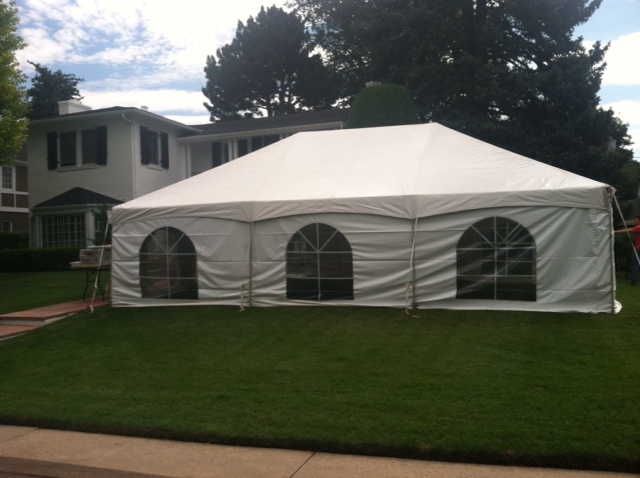 Our frame tents are commercial quality that consist of an aluminum tubing frame that fits together seamlessly. The tent tops are made of an 18oz thick canvas coated with a white black out vinyl that reflects UV rays so the heat from the sun is felt less under the tent. According to the tent manufacturers given the appropriate conditions the tent design and the spectacular frame fittings make the tents sturdy and resistant to winds up to 90 m.p.h.
Tent Seating-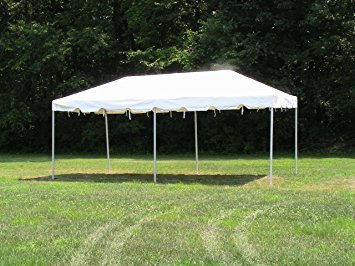 Need a larger tent...? Let us help!
We can place two or more tents of the different dimensions together to make a larger tent! We have made tent combinations of 40' x 40', 20' x 80', etc in order to accommodate for large events! See below for an example:
TENT ACCESSORIES- Walls, Draping, Lighting, & More
Adding walls to your to tent can help keep the cold and add privacy to your event. Choose between our Cathedral Window Tent Walls or our Standard White Walls.
Add elegance to your event with our Tent Liners and Draping (both meet the California Fire Marshall Title 29 and NFPA 701 Standards).
Globe Light Chandelier, Globe Lights, and Standard String Lights
Tent Carpeting, and Barrel Covers-
Shade Tents are great for your casual event, birthdays, family picnics etc. We ahve to following sizes: 20'×20' and 20'×30'.
For more information and a free quote reach out to us on our Contact Form or give us a call at: 303-659-0419